Beta testing
Why logseq?
A privacy-first, open-source knowledge base
Logseq is a joyful, open-source outliner that works on top of local plain-text Markdown and Org-mode files. Use it to write, organize and share your thoughts, keep your to-do list, and build your own digital garden.
For Macs with Apple Silicon chips, click here to download
Your data is yours, forever!
No data lock-in, no proprietary formats, you can edit the same Markdown/Org-mode file with any tools at the same time.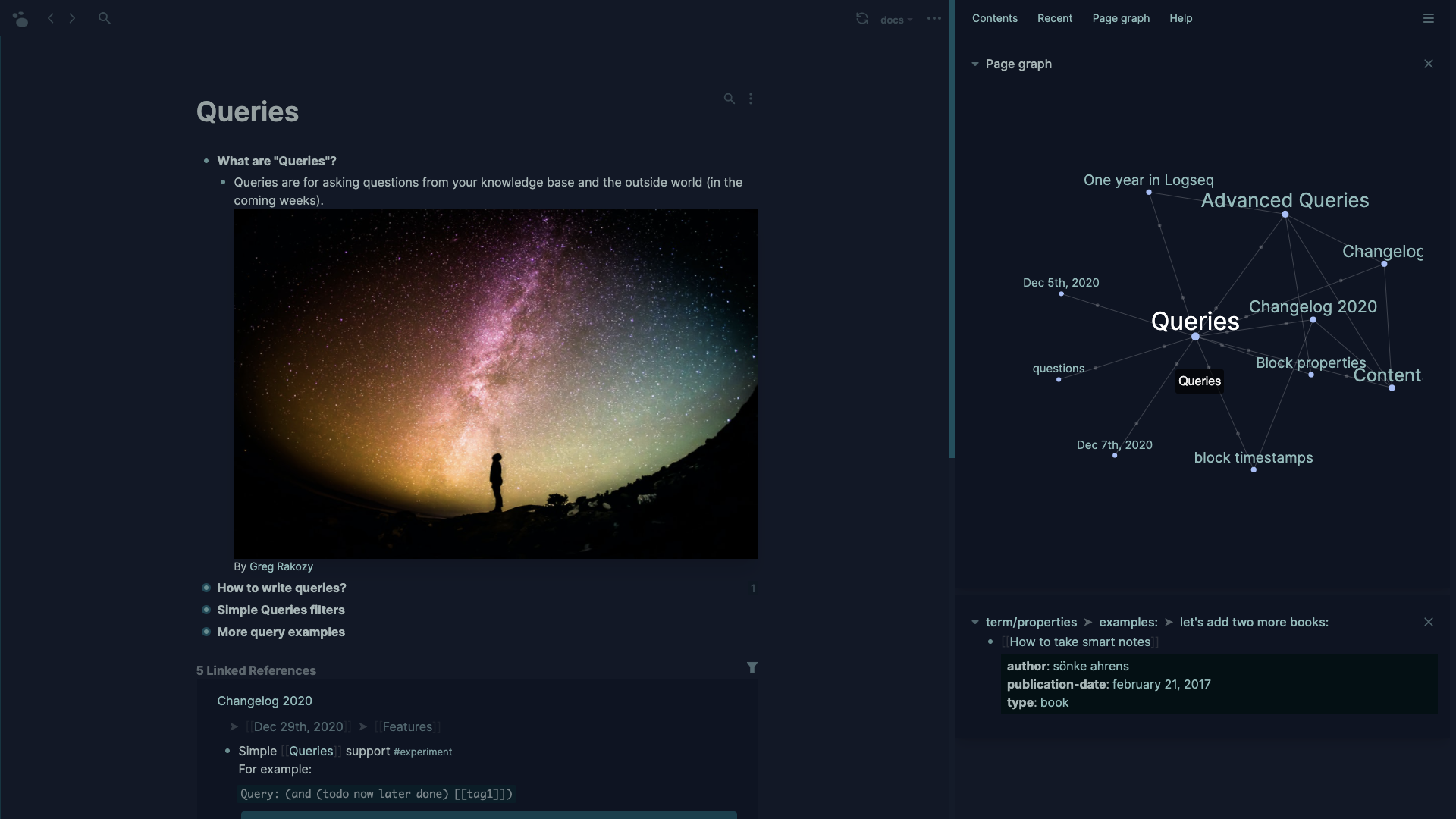 Connect your ideas like you do
Connect your [[ideas]] and [[thoughts]] with Logseq. Your knowledge graph grows just as your brain generates and connects neurons from new knowledge and ideas.
Task management made easy
Organize your tasks and projects with built-in workflow commands like NOW/LATER/DONE, A/B/C priorities and repeated Scheduled/Deadlines. Moreover, Logseq comes with powerful query system to help you get insights and build your own workflow.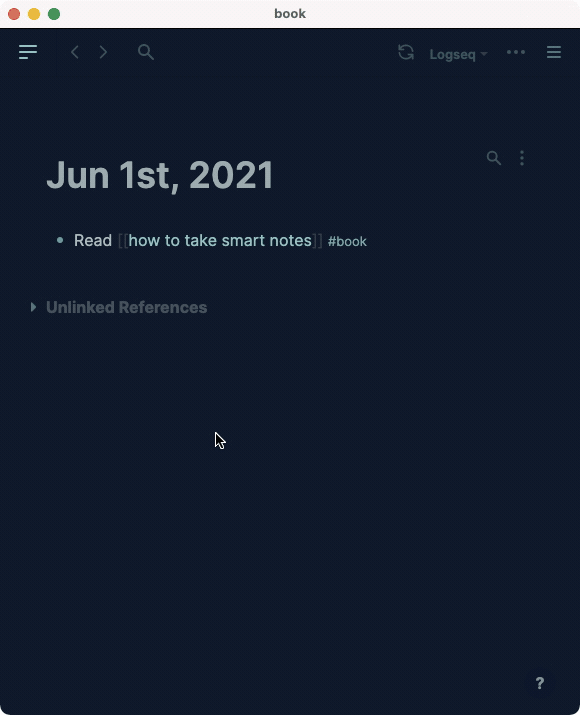 Ready to dive in?
Join the discord group to chat with the makers and our helpful community members.
What People Are Saying
I'm using @logseq + @obsdmd! Logseq is an outliner + task management that works well with my "18,000 things at once" daily way of thinking. It's also connected to Obsidian, where I keep my longer term research that benefits from structured documents.

— Jessica is trying her best (@heyitsliore) May 28, 2021
Freaking *loving* @logseq since I started using it on the desktop.

Mashup of roam and org-mode's task management is making me very happy so far, even in 0.0.13. Super impressed as giving me all the things I like about roam, emacs org-mode, and notion together. ♥️

— Daryl Manning (@awws) March 24, 2021
Every time I use @logseq I'm thinking, I needed this years ago. And the gleefully look at a future where I had this for years.

Video in the works

— Tools on Tech (@ToolsonTech) April 4, 2021
shout out to @logseq if you haven't tried it! It is the best of Roam and Obsidian, in a format you are probably very used to already. Great community, amazing approachable devs, lightning fast development. Free, local, privacy focussed, outliner.

— Luke Whitehead (@luque_whitehead) May 20, 2021
@logseq, you've stolen my heart (well, maybe neurons). a thread... 🧵

— daytura // ladon n. (@ArchLeucoryx) May 17, 2021
Ok, I'm having an absolute BLAST using @logseq for my DevLog and Tech notes that need more structure and organization.

the MVP for the project was just do new daily DevLog notes and record useful info, started some porting yesterday from @obsdmd@logseq is 🔥LIT🔥 pic.twitter.com/F8WRLwmIs7

— Bryan Jenks 🌱️ ⠕ (@tallguyjenks) May 13, 2021